Fall Winter 2017-2018 Schedules
Our Fall/Winter 2017-2018 schedule is now available.  Download and fill out a form or register online.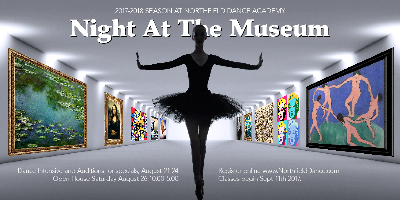 Fall 2017 School Age Registration Form_revA
Fall 2017 Preschool Registration Form
Fall 2017 Adult Registration Form
Summer Session is Here through August!
Check out the schedule and join us: Summer session
Preschool classes
Adult classes
Mini-camps

July 10-12 Jazz/Hip Hop
July 17-19 Tap/Jazz
July 24-26 Ballet/Pointe
July 31-Aug 2 Ballet/Pointe
Aug 7-9 Modern
Aug 14-16 Ballet/Pointe
Aug 21-24 Dance Intensive and Auditions for 2017-2018 "Night at the Museum"
Drop-in classes are always available
We offer drop-in classes for busy adults.  See our Registration page.
Important Dates
AEC v1.0.4